Happy Birthday Scales and Tails!
30 May 2017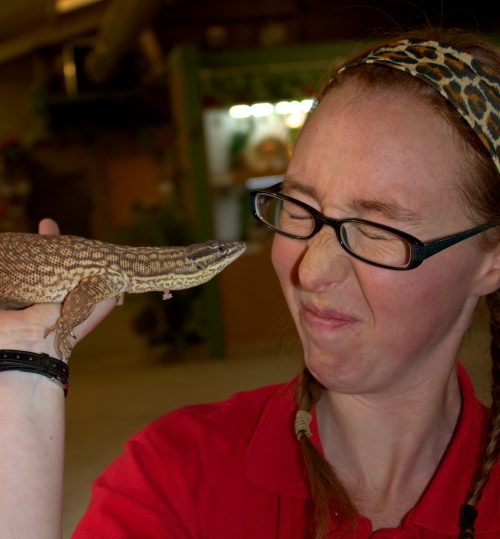 Happy Birthday Scales and Tails:
"In my nine years of working for Hatton Country World I can safely say that my proudest achievement was designing and creating Scales and Tails 3 years ago. This area has taken a lot of hard work and dedication to mould it into the interactive experience it is today. What started as a design on my dining room table has become a popular and interesting area for all the family to enjoy." Alice Latham – Assistant Farm Manager
Working partnerships
It's safe to say that along the way we have met some of the most interesting and knowledgeable people you could ever hope to meet (and some we would rather forget).
Creatures of Coventry (previously Realm of Reptiles) were instrumental in our set up of Scales and Tails, providing us with our bespoke vivarium's and endless knowledge of what reptiles would be best for our set up and which ones would reliably sit on children's laps whilst they were poked and prodded and not get grumpy! They still help us to this day with our birthday addition Jabba the Chuckwalla being bred by them and proving to be as popular as they explained he would be.
Andy from Swindon Reptile Rescue must get a mention as quite possibly the best person I have ever met since starting scales and tails. There is never a stupid question where Andy is concerned and we had many to start with. He never made us feel inadequate, and answered endless questions on what snake needed what temperature and what lizard would wow the children! We always look forward to his visits at Pumpkin week where he brings the big snakes to entertain at our members night.
Our animals:
Our collection today has grown rapidly and currently consists of 15 snakes, 14 lizards, 3 frogs, 6 tortoises, 1 terrapin, 3 spiders, 15 stick insects, 15 cockroaches, 7 Giant African Land Snails, 3 Wallabies, 6 rabbits, 7 chinchillas, 6 degu, 3 chipmunks, 2 rats, one hamster and one African Pygmy Hedgehog.
One of the first animals we added to the collection was Mr Pricklepants, on a round trip of 7 hours (thanks to traffic) we were starting to wonder if he truly was worth it, but our African Pygmy Hedgehog has proven incredibly popular with our visitors, who hope to catch a glimpse of him in his Big Bang Theory pouch and enjoy watching him scuttle across the table during handling sessions.
All our snakes and lizards are handled and feature in our daily handling sessions, with perhaps the most popular being our Royal Pythons who never get fazed no matter how busy we are and always look stunning with their thick bodies and intricate patterns.
All our animals are treated like our very own pets and get the very best care possible, we are always learning (especially as care of animals is always evolving) and we never profess to know everything, but we are always willing to answer any questions anyone may have for us in Scales and Tails and never miss an opportunity to educate our visitors about any of our animals or learn about animals ourselves. So, if you stop by Scales and Tails feel free to ask us about our animals, we will gladly tell you all about them! Happy Birthday Scales and Tails!