Enjoy Indoor Winter Family Fun In Scales & Tails
07 February 2018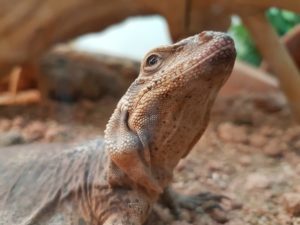 All day family fun carries on all winter long at Hatton, with lots of exciting undercover adventures to keep children and adults entertained whatever the weather!
Every day you can get up close to some of our fascinating reptiles and other animals in Scales & Tails, hold them during our handling times, and learn lots about them from our friendly and knowledgeable team.  At the weekend there's even more to do with additional craft activities and creature features.
Meet Kaa, our stunning three feet long boa constrictor.  Did you know that she could grow to an awesome eight feet?  So we're currently creating a brand new vivarium to give her lots of extra room to slither around in comfort and style.
And there's Bob and Bindi, our pair of bearded dragons – don't be scared as they're both very friendly and happy to be held by visitors.  If the names sound familiar, that's because they're named after Steve Irwin's children, whereas the other reptiles and animals are called after famous film animal characters.  See if you can find out which films they come from!
You'll know about hedgehogs but have you heard about tenrecs?   Originally from Madagascar, they look similar but are actually a different species.  We'll introduce you to Tonks the hedgehog and Mwana the tenrec and then we'll help you spot the similarities and differences.
Don't forget to see all our other animals in Farmyard Favourites – and you can visit our outdoor Animal Paddocks too!  Children can also run off their energy in Snorty's Superslide Mania, our enormous indoor play area, while adults enjoy a hot drink and a tasty treat in the adjoining café.
So come and meet Kaa and the rest of our animal gang and enjoy a very sss-pecial indoor family day out in Warwickshire this winter!