Baby Joey's Jumping For Joy!
30 May 2017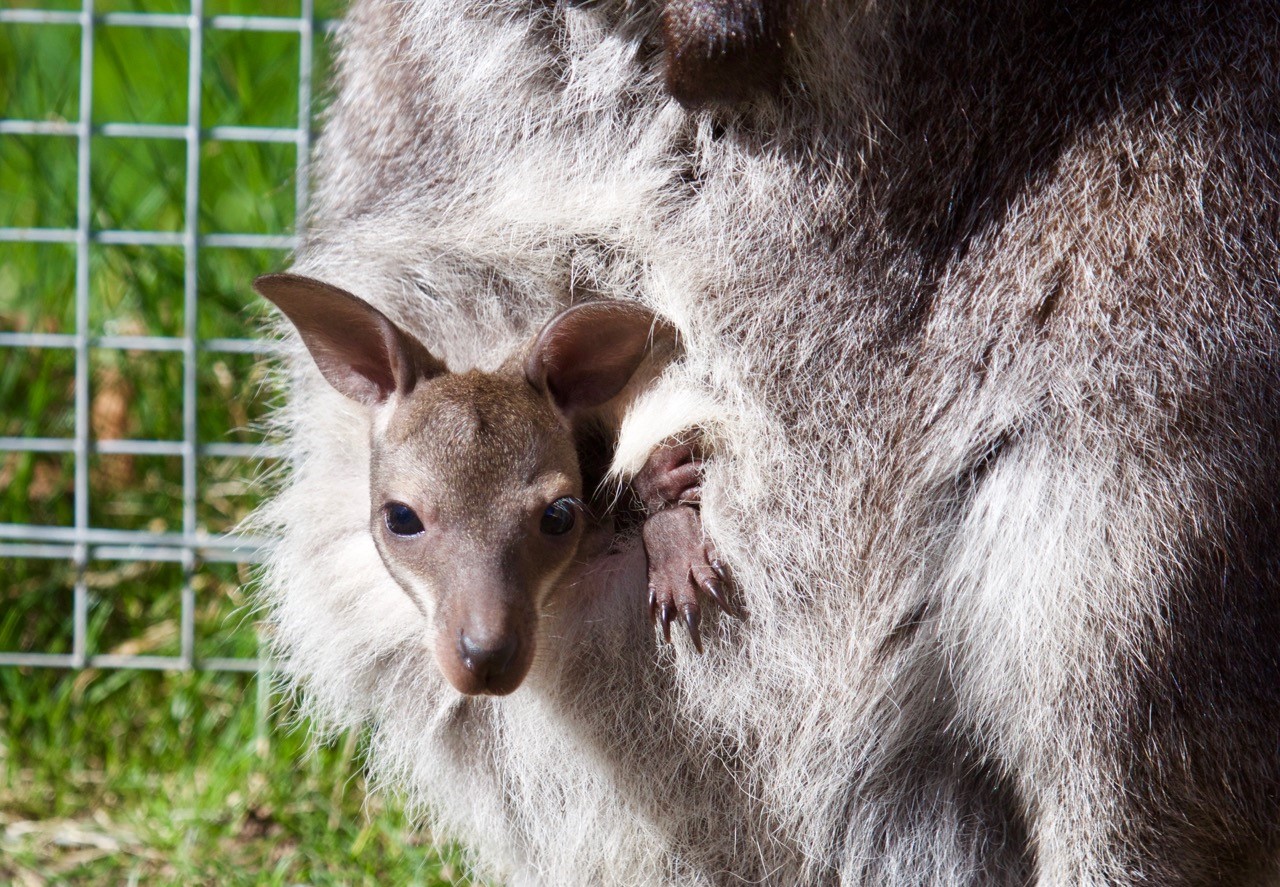 We're all very excited about our first ever wallaby baby – and our latest star attraction is absolutely loving the summer sunshine this week!  He's already a firm favourite with our visitors who've come to see him and his proud parents, Sydney and Adelaide, as part of their action packed family fun day out at Hatton Adventure World.
Our beautiful baby wallaby is called a joey, just like a baby kangaroo.  They're both members of the same "big feet" family (although wallabies are smaller).  When our joey was first born he was only the size of a jelly bean – just imagine that!  His mum had to keep him safe and warm in her pouch so he could grow a bit bigger before he poked his little head out.
The very first time we spotted him was on February 14th, so we've named him Valentine after this special day.  He was really shy at first and didn't want to climb out of the pouch for quite a while, so we had to be patient and wait until he was ready to join in all the fun on the farm.
Even now he can still jump back into the pouch again if he gets scared – it's a good thing that Adelaide doesn't mind!  However, It doesn't happen very often any more as he's happily settled in at Hatton, hopping around with his parents, and is getting more curious, confident and mischievous every day.
Like all wallabies, Valentine enjoys getting his paws on food.  In fact, he really, really enjoys eating!  He's already grown to half the size of his mum and he has lots of energy to hop around on his powerful hind legs, using his long tail to help him balance.  He has a healthy diet of maize and carrots and especially loves to eat cabbage and apples as special treats.
Originally, wallabies come from Australia and New Zealand but more are now being born in the UK, like Valentine, Sydney and Adelaide.  There are about 30 different types but some breeds are becoming vulnerable and even extinct, so it's great that we have our own little family flourishing at Hatton.
Make sure you come and say hello to our adorable little Valentine soon, as well as all the rest of his animal friends at Hatton Adventure World.  They're looking forward to welcoming you and "hopping" you have a lovely half term too!