We Do It All For You!
Hatton Birthday Parties include so much that all you need to to do is bring the cake and candles…
All from just £11.95 – £15.95 per child!
High Season Weekends & Holidays
Easter to October
£15.95
Low Season Weekends & School Holidays
November to Easter
£13.95
Term Time Weekdays
After School Parties Available
£11.95
Under 2's
Any day
£9.95
1 free adult for attending child
2 free adults for birthday child
Extra adults £8.50 / £6.50
| | |
| --- | --- |
| Cake Cutting with Snorty* | £15.00 |
| Scales & Tales Experience* | £25.00 |
(Exclusive visit to Scales & Tales and the chance to get up close and personal with our creepy crawlies and resident reptiles)
*Must be booked at least a week in advance
Please note that membership benefits are applicable on full memberships only and not valid against term time memberships.
10% off the total cost of the party
The birthday child member goes FREE
Any other child members attending will be £9.95 upon showing membership cards at headcount
The birthday child member receives a £10 Hatton voucher (*child must be a member)
Simply enter your membership number when prompted during booking – Your discounts will be applied on the day of the party once membership verification has taken place
Choose from our Hot or Cold buffet menus
Hot buffet menu (NOT available for parties starting at 12pm or 12.30pm):
Mini pizza slices, chicken nuggets, hot dogs,sausage slices,
chips, carrot and cucumber sticks with dips
Cold buffet menu:
Cheese, ham and jam sandwiches on brown and white
bread,sausage slices, pizza bites, cheese portions, cherry
tomatoes, bread sticks, carrot and cucumber sticks with dips
Both menus include jelly and ice cream for dessert and unlimited
blackcurrant or orange squash.
*Items may be substituted with alternatives. Please let us know of any special dietary requirements
Already Booked? Download Party Invites Here!
Download our party invites for your Traditional Hatton Birthday Party!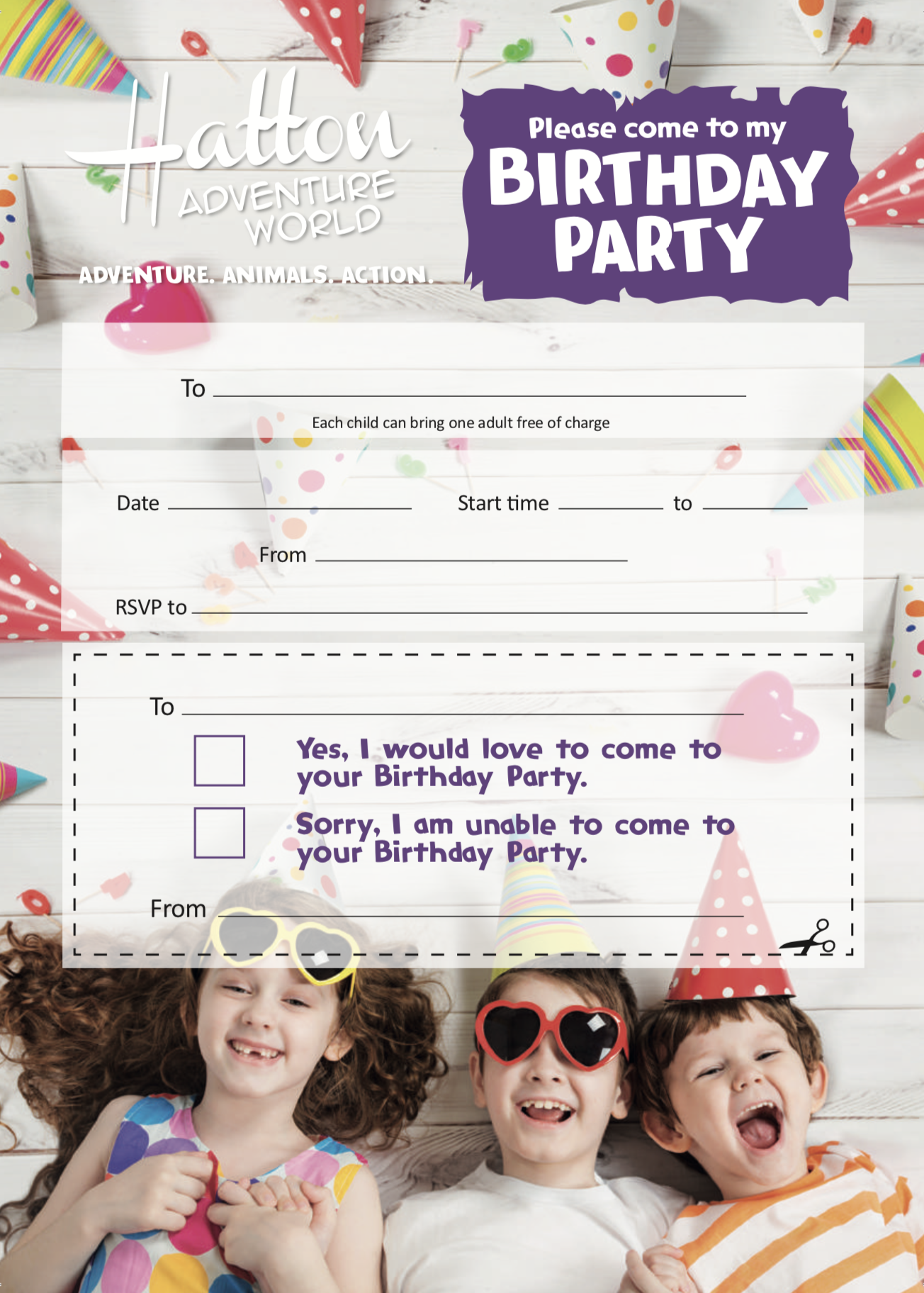 For any other enquiries please contact us today parties@hattonworld.com!
Notices
You can book a party for a minimum of 10 children and maximum of 25 online. Any bookings with more than 25 children, please contact parties@hattonworld.com
Parties last for 2.5 hours – The first 2 hours will be your chosen activities around the Adventure World followed by 30 minutes in one of our party rooms for your buffet
Please note we can only host a party for a maximum of 2 birthday children in any one party.
You can check availability and book your party online. To do this, you must pay a £50 deposit to confirm the booking and the final balance will be charged on the day of the party after a headcount has taken place to confirm final numbers. If there is no availability for your chosen date please contact us, we will see what we can do!
Entry into Hatton Adventure World is included from the start time of your party until we close at 5.30pm
*Parties do not have exclusive use of Superslide Mania. Height restrictions apply &  arms & legs must be covered to ride the slides in Superslide Mania. Socks must be worn.
**Please note, the Party Host is NOT a supervisor & all children remain the responsibility of the adults at the party at all times
***Use of the party room is for the last 30 minutes of the party only (2 hours after your party has started)
****COLD BUFFET ONLY available for parties that start at 12pm & 12.30pm
For Membership Benefits: The adult member making the party reservation receives the 10% discount off the total cost of the party. For the free birthday child place and £10 voucher, the birthday child also has to be a full member. Please note that membership benefits are applicable on full memberships only and not valid against term time memberships.