We've Simplified Things!
To provide you with the maximum flexibility and choice for your party we have 3 options ranging from Self Catered Party Venue hire only to a Full-Blown Birthday Bonanza including a helpful Party Host and Catering for all.
Party Venue Hire is for 3-hours so you're able to use this space as you wish, such as for lunch, as a meeting point & to keep presents & belongings (at owners' risk, we recommend valuables are kept with you) whilst you explore Hatton Adventure World. If you would like a venue all-day please contact us parties@hattonworld.com.
Party Rooms are equipped with children's tables and chairs plus a fridge for you to store food, drinks, cake etc.
Alternatively, make your party experience even easier by upgrading from our Bronze package to our Silver Package, you gain the knowledge and experience of our Party Hosts, or even better our Gold Package gives you the room hire, Host and leaves the catering to us! We can supply you with a pre-packed Party Box for each child, filled with a Juice Drink, Sandwich, Crisps, Fruit, Biscuit and Chocolate plus an added balloon for each child.
Parties Include
All day access to Hatton Adventure World for you and your Guests
Downloadable Party Invitations
A birthday card for the birthday child with a £5 Hatton voucher (£10 for Members)
A pot of Animal Feed, per paying child (value £1)
Access to Super Slide Mania
1 FREE return child ticket for each paying child guest (excludes Halloween & Enchanted Christmas Kingdom)
Book Now
Child (Bronze & Silver)
Low Season / High Season (Min 10 paying children)
£11.95 / £14.95
Child (Gold)
Low Season / High Season (Min 10 paying children)
£20.95 / £23.95
Adult
2 free adults per party(include this in your numbers) £9.95 for additional adults
£9.95
Under 2's
FREE
Free Carer
Must provide documentation (please see FAQ's for details)
FREE
Members
Membership number must be emailed to parties@hattonworld.com 14 days before party and must be presented on day of the Party.
FREE
Reservation Fee
Reservation fees are non-refundable and secures your chosen party room and date. You will not need to confirm your final numbers and pay your final bill until 2 weeks before your party.
£50.00 – £100.00
Low Season is October to March
High Season is April to September
You will be required to pay the Non-refundable reservation fee at the time of booking to secure the date and time of your party. They additional monies will need to be finalised 2 weeks before your party.
*All prices subject to change
Scales & Tails Experience*
Exclusive visit to Scales & Tails and the chance to get up close and personal with our creepy crawlies and resident reptiles.
£35.00
Adult Sandwich Platters
Only Available for Gold Package Parties. Sandwich platters include a mix of sandwiches, side salad and crisps for 10 people, Adult Sandwich platters can only be cancelled up to 2 weeks before your party, after that you will still be charged for them.
£150.00
Sleepover
Make your party at Hatton extra special and have a sleepover! Sleepovers are a bespoke package so please email parties@hattonworld.com for further information and pricing.
On Request
*Optional extras must be booked at least 3 weeks before your party.
Please note that membership benefits are applicable on Full Memberships only and not valid against Term Time Memberships.
20% off reservation fee (removed at time of final payment – 2 weeks before the party)
The birthday child member goes FREE
The birthday child member receives a £10 Hatton voucher (child must be a member)
Any other child members attending will be FREE (after 10 full paying)
Please email parties@hattonworld.com with your booking reference and membership number for your membership discount to be applied.
If any of your guests have memberships please email parties@hattonworld.com with their membership numbers and your booking reference and we can verify these and alter your booking accordingly. This needs to be at least 14 days before your party before we process your final payment.
*All Parties will require a minimum of 10 full paying children (any child members thereafter would be free)
Laser Combat Parties
Looking for a something a bit different?
How about a Laser Combat Party…
A game of stealth, speed and nerve.  Outwit your opponents and take on a battle!  And so much fun!
Click below for more information
More Information
Already Booked? Download Party Invites Here!
Download our party invites for your Traditional Hatton Birthday Party!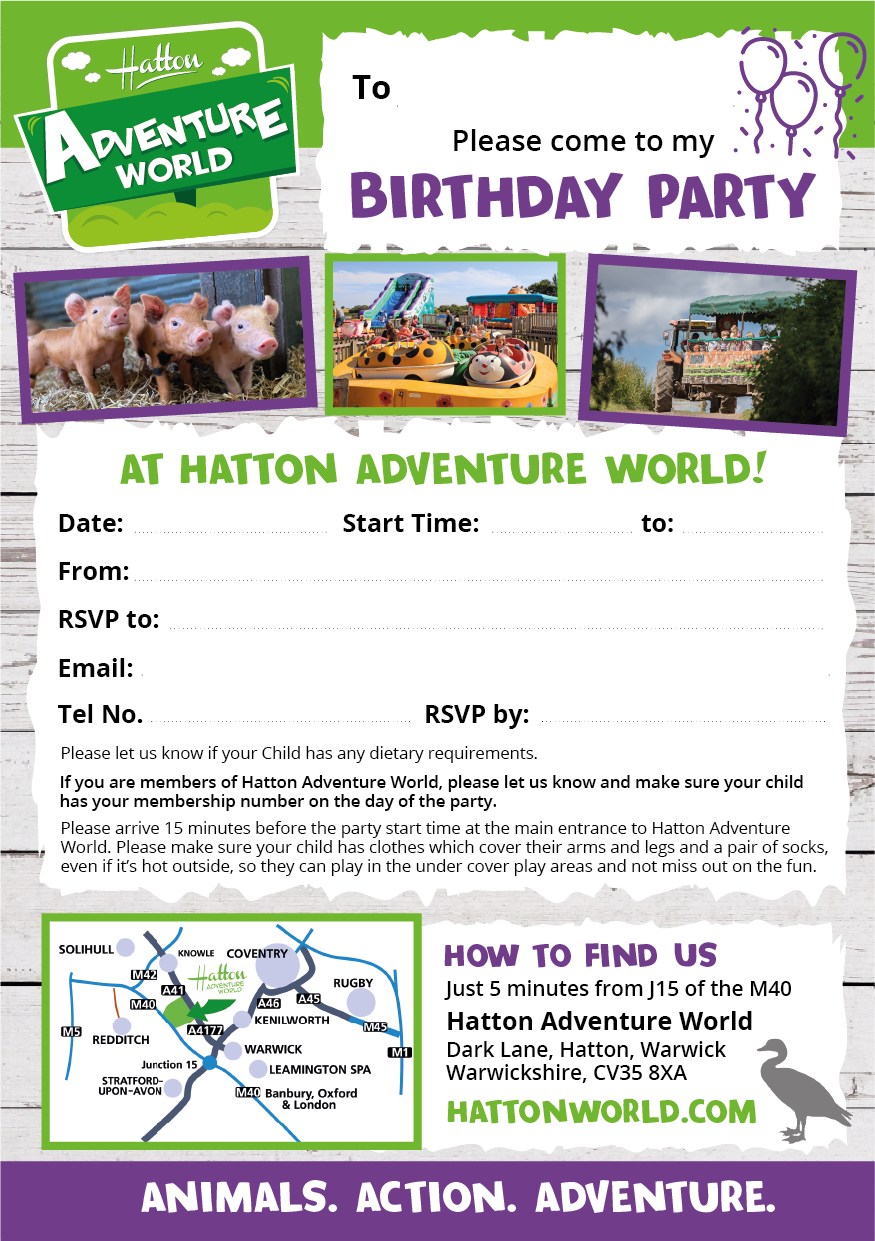 For any other enquiries please contact us today parties@hattonworld.com
Notices
All parties require a minimum of 10 full-paying children and a maximum of 40 guests (including adults). If you have a party larger than this please contact us at parties@hattonworld.com and we will see if we can assist.
Parties are for 3-hours. Your room and host hire is for your 3-hour period only.
Please note we can only host a party for a maximum of 2 birthday children in any one party.
Please check availability and book your party online. A non-refundable reservation fee is required to secure your booking.
Parties must be booked with at-least 3-weeks notice. If there is no availability for your chosen date please contact us, we will see what we can do!
Final balance must be paid 14-days before the party. Please call us on 01926 844 333 to confirm final numbers and pay the remaining balance. Alternatively, please email parties@hattonworld.com with your contact details and we will call you back.
Amendments can be made free of charge up to 21-days prior to your booking. We regret that amendments are not permissible within 14-days of your booking.
Parties do NOT have exclusive use of Superslide Mania. Height restrictions apply. Socks must be worn & arms & legs must be covered to ride the slides in Superslide Mania.
Please note if you have booked a Silver or Gold package your party host is NOT a supervisor & all children remain the responsibility of the adults at the party at all times
A fridge will be available in each party venue option, no further cold storage will be available
Please bring your own plates and cups (If choosing the Bronze or Silver package)
Do not forget to bring candles, matches/lighter for your birthday cake (We do not provide birthday cakes)
Bins are provided in each party venue, please ensure that you put all rubbish in the bins at the end of your party
Food and drinks can be purchased at the refreshment services open in Hatton Adventure World
We recommend you communicate to your party guests to arrange a Meet Time, we would recommend meeting at the Entrance Kiosk to Hatton Adventure World 15mins before your party time.
For Membership Benefits: The adult member making the party reservation receives the 20% discount off the reservation fee. For the free birthday child place and £10 voucher, the birthday child also has to be a full member. Please note that membership benefits are applicable on full memberships only and not valid against term time memberships.