We've Simplified Things!
To provide you with the maximum flexibility and choice you can now just pay a discounted admission price to Hatton Adventure World, hire a party room and bring your own food. Or ask us to do the food for you as we used to. Even hiring a Party Room optional.
Party Room Hire is available for 3 hours so you're able to leave your belongings (at owners' risk, we recommend valuables are kept with you), as a meeting point and to keep presents while you explore Hatton Adventure World.
Party Rooms are equipped with children's tables and chairs plus a fridge for you to store drinks, cake etc.
Alternatively, make your party experience even easier and leave the catering to us! We will supply you with a pre-packed Party Box for each child, filled with a Juice Drink, Sandwich, Crisps, Fruit, Biscuit and Chocolate and an added balloon for each child.
Party Room Hire
The price includes…
All day access to Hatton Adventure World for you and your Guests
Downloadable Party Invitations
A birthday card for the birthday child with a £5 Hatton voucher (£10 for Members)
A pot of Animal Feed, per paying child (value £1)
Access to Super Slide Mania
Book Now
Child
Minimum of 10 Children
£11.95/£13.50/£14.95 (Low/High/Summer Holiday Season)
Adult
Per Adult
£11.95/£14.95 (Standard/Summer holiday Season)
Under 2's
Free
Free Carer
Must provide proof (please see FAQ's for details)
Free
Members
Membership number must be presented on day of the Party.
*Free
3 Hour Party Room Hire
Members receive a 20% discount on Party Room Hire
£50.00
Birthday Party Deposit (Entrance Only)
Keeping it simple, with no added extras. Secure the discounted Birthday Party entry price with a non refundable deposit.
£50.00
Please note that the fee for a 3 hour Party Room Hire (£50) is required when booking and is non-refundable.  You will also require a Birthday deposit ticket of (£50) when bookings this is also non-refundable. The deposit ticket will be deducted from your total booking on the day. All Parties will require a minimum of 10 paying children (*Members included)
Summer Holiday Season (July 22nd-September4th)
High Season (3rd April – 21st July & 5th September – 31st October)
Low Season (1st November – 30th November)
Party Box
Includes; Balloon, Sandwich, Fruit, Crisps, Biscuit, Chocolate & Juice Drink
£6.50 per child
Party Pack
Disposable Plate, Disposable Cup, Disposable Napkin
30p per set
Party Host*
Add your very own Party Host to make the most of your party. Assisting with Animal Handling, taking them on the Fun Fair Rides, Bouncy Castles and ensuring they get to do all the activities they would like to do during the party. They are not there to supervise the Children, but to help you ensure they have a great party.
£50.00
Scales & Tales Experience*
Exclusive visit to Scales & Tales and the chance to get up close and personal with our creepy crawlies and resident reptiles
£35.00
*Must be booked at least 3 weeks in advance
Please note that membership benefits are applicable on Full Memberships only and not valid against Term Time Memberships.
20% off the total cost of the Party Room
The birthday child member goes FREE
Any other child members attending will be FREE when showing membership cards at headcount*
The birthday child member receives a £10 Hatton voucher (child must be a member)
Simply enter your membership number when prompted during booking – Your discounts will be applied when you call to pay for your party. We will need to confirm your membership numbers 14 days before your party when we process your payment, for all the members coming to your party please email parties@hattonworld.com with all there membership numbers and we can verify these and alter your booking accordingly.*All Parties will require a minimum of 10 paying children.
Already Booked? Download Party Invites Here!
Download our party invites for your Traditional Hatton Birthday Party!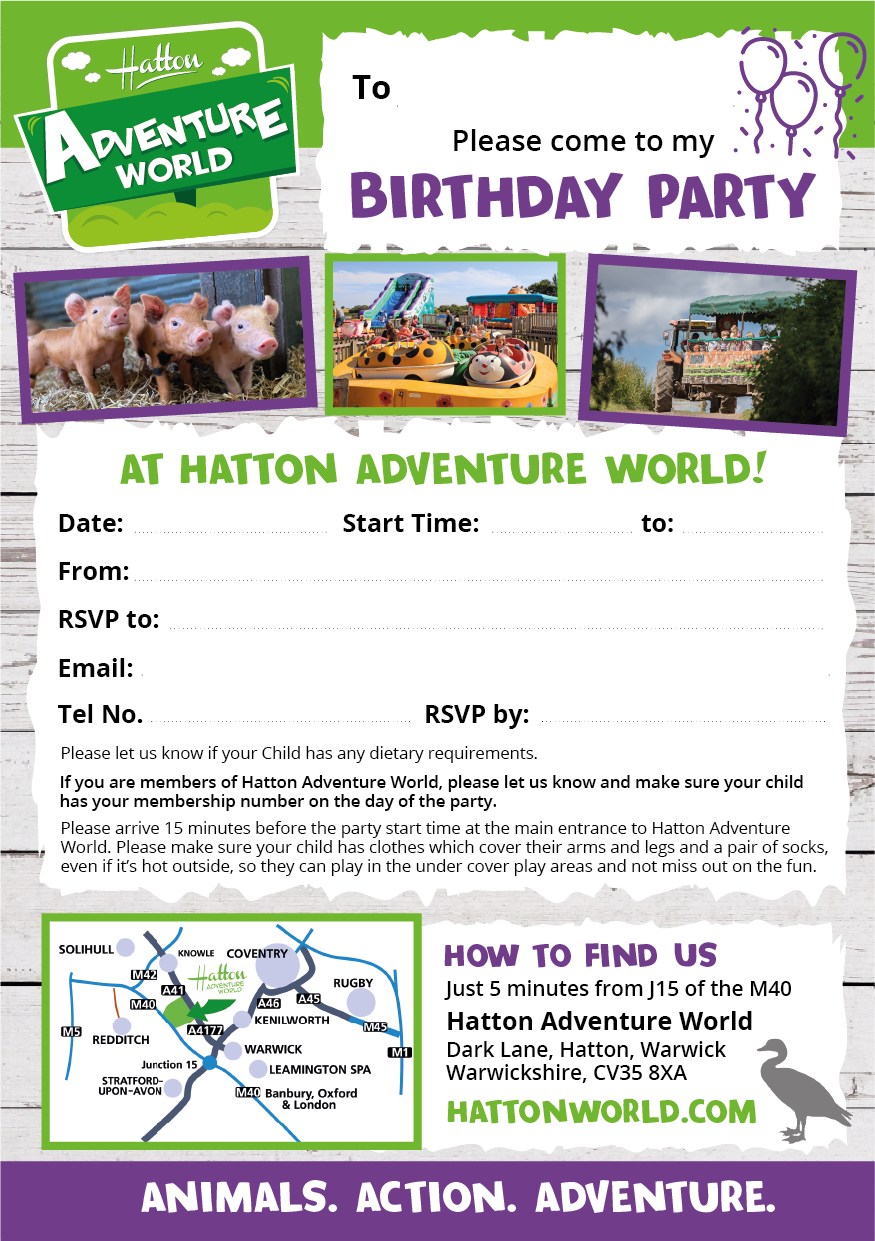 For any other enquiries please contact us today parties@hattonworld.com
Notices
You can book a party for a minimum of 10 children and maximum of 30 online. Any bookings with more than 30 children, please contact parties@hattonworld.com
Parties last for 3 hours – where you are free to choose how to spend your day and when you use your Party Room to eat within your 3 hour hire.
Please note we can only host a party for a maximum of 2 birthday children in any one party.
Please check availability and book your party online. To do this, you must pay a deposit to confirm the booking and the remaining balance must be paid 14 Days before the party. Please call us on 01928 843 411 to confirm final numbers and pay the remaining balance. Alternatively please email parties@hattonworld.com  with your contact details and we will call you back. If there is no availability for your chosen date please contact us, we will see what we can do!
Amendments can be made free of charge up to 14 Days prior to your booking. We regret that amendments are not permissible within 14 Days of your booking.
Entry into Hatton Adventure World is included from the 'Meet Time' of your party. After the Party Room hire is over you are free to stay at Hatton Adventure World until closing time
*Parties do not have exclusive use of Superslide Mania. Height restrictions apply &  arms & legs must be covered to ride the slides in Superslide Mania. Socks must be worn.
**Please note, the Party Host, if added, is NOT a supervisor & all children remain the responsibility of the adults at the party at all times
***Use of the party room is for 3 hours of the Party only
A standard size fridge will be available in each Party Room and no further cold storage will be available
Please bring your own disposable plates and cups, or purchase our Party Packs if you wish to serve snacks and drinks
Do not forget to bring candles, matches/lighter and a knife to cut the Birthday Cake
Bins are provided in each Party Room, please ensure that you put all rubbish in the bins at the end of your Party
You cannot enter the Party Room before the start of your booked time and must leave after 3 hours
Food and drinks can be purchased at the refreshment services open in Hatton Adventure World
We recommend you communicate to your party guests your Meet Time.
For Membership Benefits: The adult member making the party reservation receives the 20% discount off the party room hire. For the free birthday child place and £10 voucher, the birthday child also has to be a full member. Please note that membership benefits are applicable on full memberships only and not valid against term time memberships.